Maverick Vinales comes away from finishing a distant 10th in the MotoGP French Grand Prix "more positive" and feels he only needed a stronger qualifying for a different result.
Sunday's Le Mans race was a bruising one for Yamaha, with the top M1 Fabio Quartararo in ninth, with Vinales trailing him 10th while both Valentino Rossi and Franco Morbidelli crashed out.
Having started fifth, Vinales was caught up in Rossi's opening lap crash at the Dunlop chicane and dropped down the order as a result, but recovered to 10th in the end after a late surge in pace.
Despite being the second-successive race in which he failed to crack the top eight, Vinales is still only 19 points off the championship lead and believes "anything can still happen" in the title race.
"It's a championship where you never have to give up," Vinales said.
"Now there are super-good tracks [coming], Aragon and Valencia, two of my favourite tracks on the calendar, so you have to go there with all the enthusiasm and motivation in the world.
"The truth is I came out of this race more positive.
"In the end we only needed qualifying [to be better], I could not do a perfect lap, but all weekend we have been fast.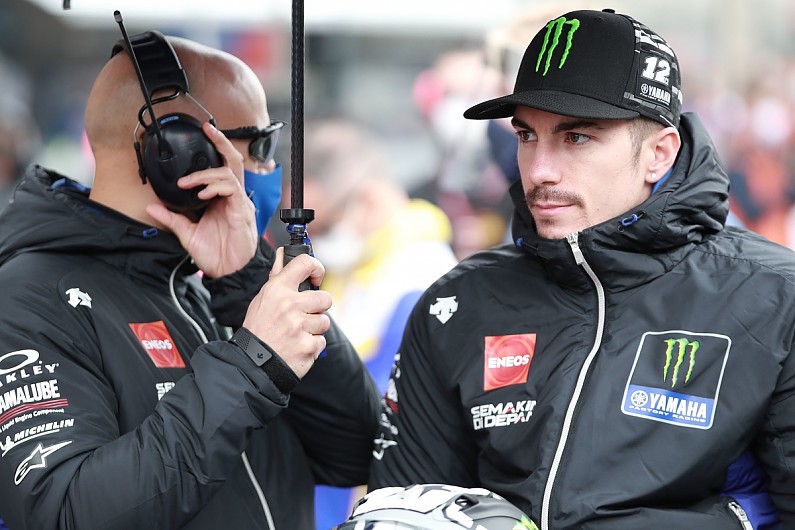 "So, in Aragon we will try not to fail, be there strong and put pressure on our rivals."
Vinales engaged in a last-lap battle with Quartararo and Suzuki's Joan Mir over ninth and managed to get ahead of the latter.
He was going to attempt to take ninth from Quartararo at the last corner but knew he "was going to mess it up" and aborted the move.
"Nothing was missing, I was going to try it in the last corner," he said when asked about his last-lap battle with Quartararo.
"But I saw I was going to mess it up and we were going to fall, so I preferred to hold on behind, pass Joan and finish in the middle of the two.
"In the end, it was important to finish and not lose many points after what happened in the first corner.
"But I'm happy, the sensations in the wet have been good and that's important.
"Results in the wet are always a bit crazy. Starting in the front row I could have been in front I think, but it is what it is."