Sebastian Vettel feels "mixed emotions" about the prospect of Lewis Hamilton breaking Michael Schumacher's Formula 1 win record, but says the Mercedes driver "deserves all the success" he enjoys.
Hamilton will tie with Schumacher's record of 91 grand prix victories by winning this weekend's Russian Grand Prix, and is on course to break the tally in the near future.
It would mark the latest record previously held by Schumacher to fall to Hamilton, who is also aiming to match the German driver's total of seven F1 drivers' championships this year.
Vettel sits third on the all-time wins list in F1 with 53 victories to his name, and looked up to Schumacher when he was growing up.
"It's always been a number that has appeared impossible to reach," Vettel said, referring to Schumacher's victory count.
"Now seeing the last years and Lewis's track record, he was getting closer and closer, and I think it is probably at this point a question of time [before he] reaches that.
"On one hand, I will for sure be sad, because Michael is still my hero.
"On the other hand, I will be very happy for Lewis. He deserves all the success that he has had in the last years, and he is going to have in this year.
"I don't know if he remains [in F1], but I guess so, and the next years.
"A bit half half, mixed emotions. For myself, I don't know. Obviously I'm far away.
"It was always one of these numbers that seemed impossible, but up to the point where somebody gets there and gets close and breaks it."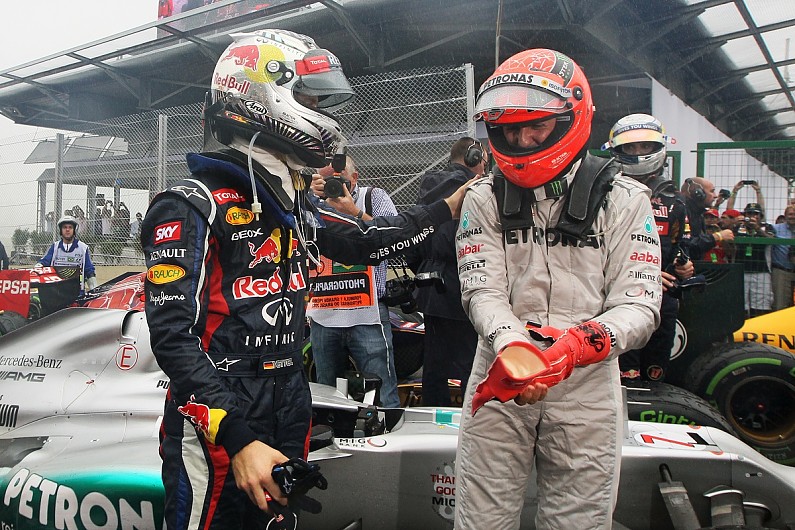 Schumacher has stood as F1's leading race winner since the 2001 Belgian Grand Prix, when he broke the previous record of 51 victories set by Alain Prost.
Asked what equalling Schumacher's record would mean, Hamilton refused to get ahead of himself, anticipating he would face a tough challenge in Sochi this weekend.
"I don't know what it would mean to me, to be honest," Hamilton said.
"Firstly, I've got my work cut out. This is a track where Valtteri [Bottas] won his first grand prix, Valtteri is very quick at this circuit. And the Red Bulls will be quick here as they were last year.
"So it's a real tall order to come into a weekend and to win. If it happens, it's going to happen at some stage, I'm not quitting any time soon.
"I can't tell you how I'm going to feel or what's it's going to mean. Or if it's going to mean anything.
"There are other, bigger issues and things happening in the world. But of course it's an honour, but that doesn't really mean anything either."