Reigning IndyCar champion Josef Newgarden says he has "no room to be mediocre" and a "perfect" run if he is to beat Scott Dixon to the 2020 title.
Newgarden claimed his third victory of the season in Friday's opening Harvest GP race on the Indianapolis road course, when Chip Ganassi Racing's five-time champ Dixon could only salvage ninth – and the gap between them shrank from 72 points to 40.
However, with two rounds to go and the finale no longer being worth double points, Newgarden acknowledges he has an uphill battle to retain his crown, so his approach will remain the same.
"It's no different," said Newgarden.
"Without a doubt, we still have to have perfect days for the next two races. We have to.
"We can't afford to have a bad day tomorrow, we can't afford to have a bad day in St. Pete.
"We're always going to maximise our performance, the only difference is that we don't have any room to be mediocre.
"On days where you have a fourth- or fifth-place car, you still work your butt off to finish with what the car and the team is capable of.
"The only difference is we have to make sure we're a winning car every day. We can't afford to not be a winning car.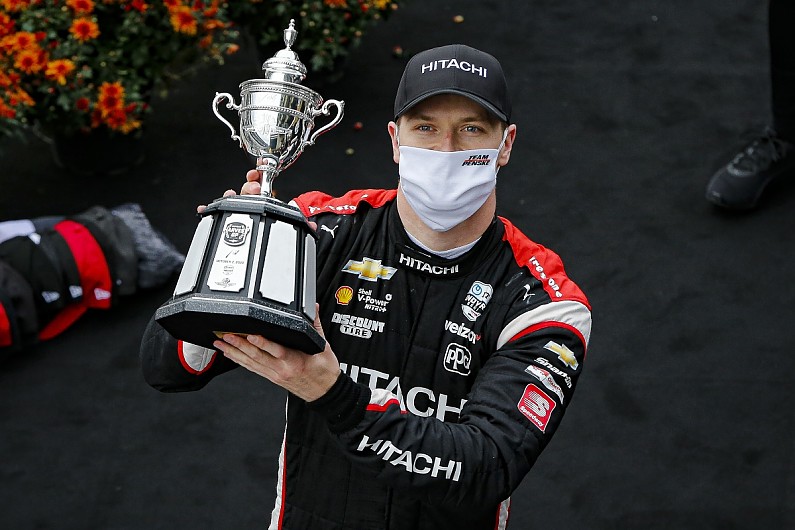 "We just do not have the room to slip up. If we had any luck for the year, it's certainly been used up by this point."
Reflecting on his 17th IndyCar win on Friday, Newgarden said key to the triumph was having a car that was strong on both of Firestone's tyre compounds – the harder primaries, and the red-sidewalled softer alternates.
"I would say that was our strength today," he said.
"We were probably the most even across the sets. Honestly, we didn't make a change today, which is very abnormal for us.
"We typically make changes across the two tyre compounds [but] we didn't touch the car all day. It was very balanced,
"Looked like [Alexander] Rossi was very good on the primary tyres, not so good on the alternates.
"Colton [Herta] definitely looked a little bit better on the primaries at times versus the alternates.
"Rinus [VeeKay, polesitter and third-place finisher], I didn't see as much – he kind of caught traffic when I was catching up to him. I didn't get a good look at where he was strong.
"I do think because you only have two sets of reds, they're a pretty strong tyre and that divides the stints pretty evenly.
"You can swing that to stretching the reds a little bit more in a race. It does put an emphasis on being good across the board."