Team Penske's Brad Keselowski dominated the latter stages of the NASCAR Cup Series race at New Hampshire for his third win of 2020, his first at the venue since 2014.
Keselowski's Ford Mustang was engaged in a duel for the lead with the Joe Gibbs Toyota Camry of Denny Hamlin throughout the opening two stages of the 301-lap race – the duo swapping the lead 12 times among themselves.
Shortly after the restart for the final segment, on lap 221, stage two winner Keselowski slipped past the #11 Camry to claim a lead he would not lose in the remaining 80 laps, comfortably holding Hamlin at bay by around one-to-two seconds to record the 33rd Cup win of his career – and first since Bristol in early June.
Hamlin, who had scooped stage one honours for JGR, was in turn 6.0s clear of team-mate Martin Truex Jr, who recorded a fourth top-three finish of the campaign.
The leading quartet was completed by Penske's Joey Logano – with the four drivers overcoming any potential fuel worries, legacy of an aggressive strategy by their teams.
On lap 204, the caution was thrown after Matt Kenseth's #42 Chip Ganassi Mustang machine blew a second tyre in just eight laps, with Keselowski leading the charge to pit-road for those who had not stopped during an earlier caution period for a Christopher Bell spin.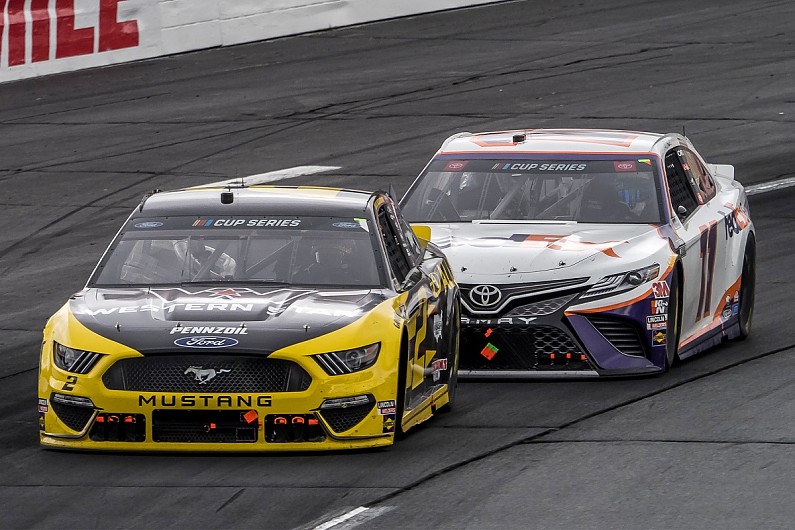 Just eight laps later however, John Hunter Nemechek rammed the wall after another blown tyre – allowing the likes of Kevin Harvick and Chase Elliott to respond, safe in the knowledge that they could make the flag without the need to save fuel.
Pre-race points leader Harvick became the prime benefactor in the scenario that any of the leaders ran dry, but the Stewart-Haas Racing driver was not afforded the opportunity to match Jeff Burton in 1997-99 and record three straight Cup wins at the 1-mile circuit.
The #4 Mustang did well to recover to take fifth, as Matt DiBenedetto ran a strong race to bank a sixth top 10 finish of the campaign for Wood Brothers Racing.
Aric Almirola and Kentucky winner Cole Custer ensured three SHR drivers were in the top eight – which was locked out by Ford and Toyota drivers.
The lead Chevrolet to finish was that of Elliott – who could not advance like Harvick in ninth – as Tyler Reddick nabbed 10th on the final lap.
Indeed, Elliott lead a nine Chevrolet pack at the flag – with Camaros filling out P9-P17 at the flag – with seven-time champion Jimmie Johnson in 12th after a early spin due to contact with Clint Bowyer dropped him to the back.
Bowyer was 18th with Ryan Blaney ending the day 20th.
Kyle Busch's miserable title defence goes on – the #18 JGR machine clouting the wall within the first 10 laps, bringing about an early end to the race for the two-time Cup Series champion.
NASCAR Cup New Hampshire results – 301 laps
| Pos | Driver | Team | Car |
| --- | --- | --- | --- |
| 1 | Brad Keselowski | Team Penske | Ford |
| 2 | Denny Hamlin | Joe Gibbs Racing | Toyota |
| 3 | Martin Truex Jr. | Joe Gibbs Racing | Toyota |
| 4 | Joey Logano | Team Penske | Ford |
| 5 | Kevin Harvick | Stewart-Haas Racing | Ford |
| 6 | Matt DiBenedetto | Wood Brothers Racing | Ford |
| 7 | Aric Almirola | Stewart-Haas Racing | Ford |
| 8 | Cole Custer | Stewart-Haas Racing | Ford |
| 9 | Chase Elliott | Hendrick Motorsports | Chevrolet |
| 10 | Tyler Reddick | Richard Childress Racing | Chevrolet |
| 11 | William Byron | Hendrick Motorsports | Chevrolet |
| 12 | Jimmie Johnson | Hendrick Motorsports | Chevrolet |
| 13 | Austin Dillon | Richard Childress Racing | Chevrolet |
| 14 | Ricky Stenhouse Jr. | JTG Daugherty Racing | Chevrolet |
| 15 | Alex Bowman | Hendrick Motorsports | Chevrolet |
| 16 | Ryan Preece | JTG Daugherty Racing | Chevrolet |
| 17 | Kurt Busch | Chip Ganassi Racing | Chevrolet |
| 18 | Clint Bowyer | Stewart-Haas Racing | Ford |
| 19 | Michael McDowell | Front Row Motorsports | Ford |
| 20 | Ryan Blaney | Team Penske | Ford |
| 21 | Ryan Newman | Roush Fenway Racing | Ford |
| 22 | Ty Dillon | Germain Racing | Chevrolet |
| 23 | Darrell Wallace Jr. | Richard Petty Motorsports | Chevrolet |
| 24 | Erik Jones | Joe Gibbs Racing | Toyota |
| 25 | Chris Buescher | Roush Fenway Racing | Ford |
| 26 | Daniel Suarez | Gaunt Brothers Racing | Toyota |
| 27 | Brennan Poole | Premium Motorsports | Chevrolet |
| 28 | Christopher Bell | Leavine Family Racing | Toyota |
| 29 | J.J. Yeley | Rick Ware Racing | Ford |
| 30 | James Davison | Rick Ware Racing | Chevrolet |
| 31 | Garrett Smithley | Spire Motorsports | Chevrolet |
| 32 | Quin Houff | StarCom Racing | Chevrolet |
| 33 | Timmy Hill | MBM Motorsports | Toyota |
| 34 | Joey Gase | Petty Ware Racing | Ford |
| 35 | Corey LaJoie | Go FAS Racing | Ford |
| 36 | John Hunter Nemechek | Front Row Motorsports | Ford |
| 37 | Matt Kenseth | Chip Ganassi Racing | Chevrolet |
| 38 | Kyle Busch | Joe Gibbs Racing | Toyota |