Seven-time NASCAR Cup champion Jimmie Johnson has impressed Chip Ganassi team boss Mike Hull and five-time IndyCar champion Scott Dixon after completing a test on Indianapolis Motor Speedway's road course.
Johnson, whose last open-wheel action was testing a McLaren Formula 1 car in a car swap with Fernando Alonso at Bahrain, was supposed to try out with Arrow McLaren SP in April at Barber Motorsports Park, but all racing activity was halted by the coronavirus pandemic.
Then in late June, it was announced that he was to test with Ganassi on the IMS road course on 8 July, but the plan was thwarted by Johnson testing positive for COVID-19.
But on 28 July, the plan with Ganassi came together and Johnson tested Felix Rosenqvist's car with a limited number of team personnel that included Chip Ganassi himself, along with Hull and Dixon, and completed over 100 laps.
Afterward, Johnson tweeted a one-minute video along with the message: "Today was incredible. Sign me up for more!"
Today was incredible. Sign me up for more! pic.twitter.com/oz69CimIAp

— Jimmie Johnson (@JimmieJohnson) July 28, 2020
Dixon said: "It's been a lot of fun. It's been on again, off again for Jimmie for a lot of time through different reasons, backing up to Alabama with another team and then his COVID situation. So it was nice that the third time was the charm to get out here.
"Tough conditions, really low grip, and obviously very hot today but it gives him a good feel of what the car's like and through the course of the day it's been a lot of fun just to kind of talk back and forth about what things are different for him, what are quite similar in driving style.
"And a lot of video to go through because what he typically does is so different from what we do.
"He's honestly been a very good listener and very able at replicating video which is not always very easy to do.
"So he sees something in the data or on the video and he's actually able to replicate it which is pretty cool. So it's been good."
Chip Ganassi team boss Hull has been left incredibly impressed by Johnson's rate of improvements and professionalism despite some initial teething issues and a spin.
"We had five sets of Firestones, and a stint is 24 laps, we did 24-28 laps on each of those five sets," Hull said.
"He got a little excited at the start of the day in a couple of the braking areas and stalled it after he spun back around but he didn't hit anything – not even grass or gravel – and just stopped on the track.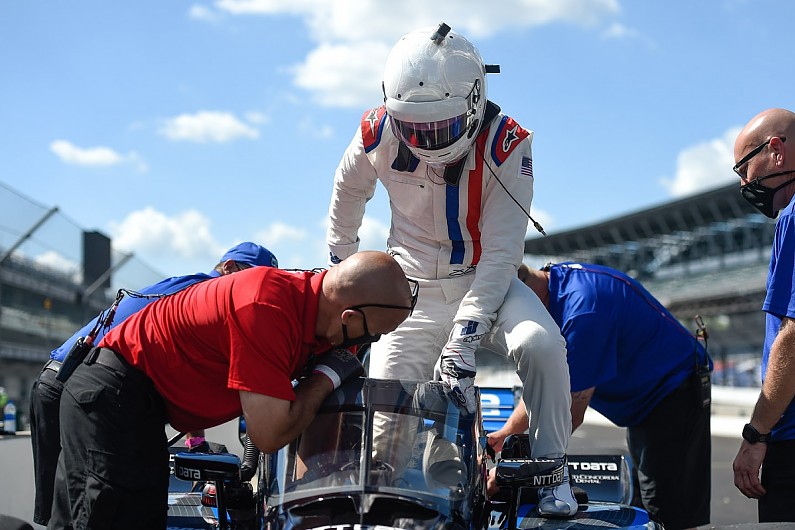 "But once he got that out of his system, he was very good all day.
"And having Scott Dixon there to talk through the differences in drive style of a Cup car and an IndyCar was of course very helpful.
"The power levels of the cars are probably very similar but the power-to-weight ratio is very different, and what you can do with the car and the attitude that it has mid-corner and how late you can take the braking down to the corner even with one unloaded wheel."
Hull also noted Johnson's fitness despite a limited recovery period from coronavirus as well as the different physical challenges an IndyCar creates compared to his regular NASCAR surroundings.
"When a guy's fitness isn't correct in the early afternoon and when you're on the intercom, you start to hear him heavy breathing," he said.
"With Jimmie, we didn't hear that all day.
"You know, I thought sooner or later we're gonna hear this guy fall out of the saddle, he's going to realise how difficult this thing is, but no.
"I think I need to follow him around on his mountain bike in Colorado!
"He's in very good shape. Tomorrow he may be a bit sore, but in terms of getting after it all the way to the end of the day, he wasn't affected by the physicality at all."
Pressed on whether he thought Johnson could be competitive in IndyCar, Hull replied: "If you asked me 'Do you think he could do it?' my answer would be 'Yes'. Can he race an IndyCar? Yes, and he would do all right.
"I don't know where he would stack up, but I don't think he'd be publicly sorry that he did it."