Franco Morbidelli admits his fourth in the MotoGP Catalan Grand Prix left him "angry", but believes this is "positive" as it shows he is "on a great level".
Morbidelli led the first eight laps of the Barcelona race from pole on his Petronas SRT Yamaha before being passed by team-mate and eventual winner Fabio Quartararo on lap nine.
The Italian would make a mistake at the first corner under braking on lap 14, which cost him two seconds and dropped him to third behind Valentino Rossi, before tyre wear eventually allowed the Suzuki duo of Joan Mir and Alex Rins to push him down to fourth after Rossi crashed out ahead.
"I am angry for this fourth place, and this is positive because it means we are on a great, great level," Morbidelli said.
"I had a wonderful start and maybe I pushed a bit too much and I wore out the tyres a bit too much and I wasn't ready to fight when Fabio arrived.
"So, when I was behind him I was losing a little bit in the straight, and to catch up I had to risk a lot in braking and I made a mistake.
"I almost crashed into him, so I needed to go straight and wide and I lost two seconds, which are the ones that make me lose the podium.
"So, I am angry for this mistake but I need to be happy overall about the overall weekend."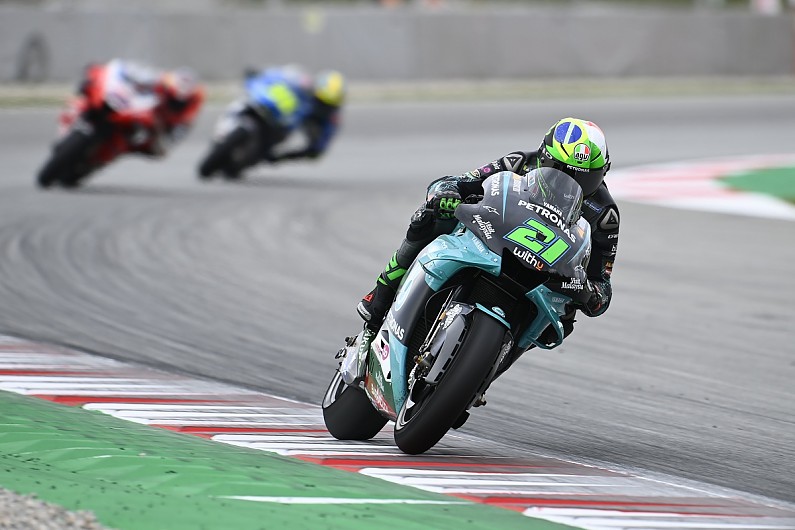 Morbidelli's 'A-spec' M1 – which is effectively the 2019 bike – was 5.5km/h slower than Quartararo's 2020 M1 through the speed traps in the race, with the Italian slowest of all on the straights.
He says this meant he "couldn't make a strategy" to manage the tyres for the race and forced him into just pushing at the start while he had grip.
"I wasn't thinking about managing the tyre because you can [only] think about managing the tyre when you have power on the straight," he added. "And I'm clearly the weakest of the field in this point of view.
"This weekend I was 6km/h slower than the other Yamahas, and at the end of the race I was 22km/h slower than the Ducatis.
"So, I couldn't make any strategy. I just had to start and make the maximum.
"I couldn't manage the tyres because I wanted to give the maximum when there was [grip]. But I think it was the best strategy for me and my package."
Morbidelli admitted after his San Marino GP win he thought he could fight for "something big" in the championship.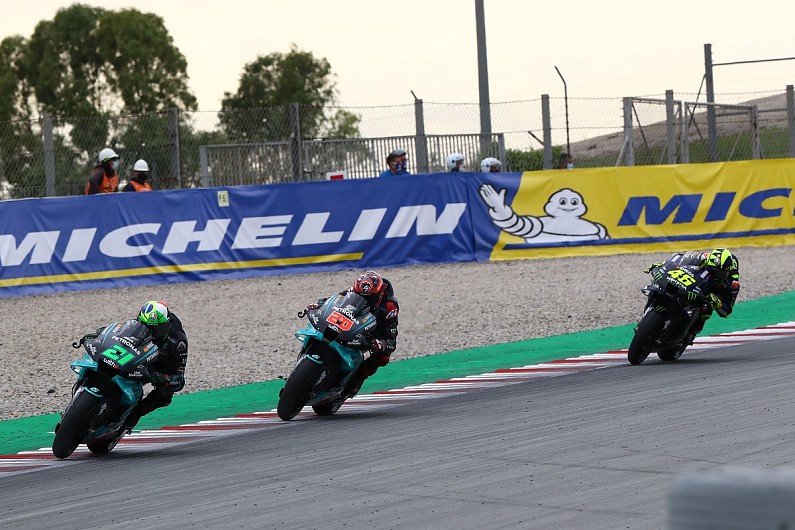 However, even though he is only 31 points adrift of Quartararo in fifth, he says his speed deficit at Catalunya to his Yamaha counterparts has made him re-evaluate this.
"We have been very unlucky and we are still fifth in the championship," he said in response to a question from Autosport about the title fight.
"After Misano I was thinking that maybe I could have fought for something bigger, but actually after seeing my potential on a straight line here being even less than the other Yamahas, I need to step back, try to relax, try to enjoy every race on the bike, not thinking about anything."