Honda's Alex Marquez "expected a bit more" from the MotoGP Catalan Grand Prix finishing 13th and 17 seconds off the lead owing to a mistake over his front tyre choice.
Marquez made a step forward in adapting to the RC213V in his rookie season in the Emilia Romagna GP at Misano, where he finished a career-best seventh – though admitted it wasn't a "real" result due to the high attrition rate.
Once again struggling in qualifying down in 18th, Marquez opted for the medium front tyre but feels this was the "wrong" choice for him and "suffered a lot" in the race as a result.
However, he believes this will allow him to learn and make him "stronger" for future races.
"After Misano, here I expected a bit more," Marquez said. "It's a track that I love and I had good results in the past.
"So, I expected more. But I was wrong with the front tyre choice. I was suffering a lot all the race, but races like this where you suffer a lot you also learn a lot for the future.
"I think it will make me stronger for the moments that we will struggle more like today's race.
"So, I will learn from this decision before the race, and then for Le Mans we will have a more clear idea.
"I expected to be a little bit closer to the front and not 17 seconds [back]."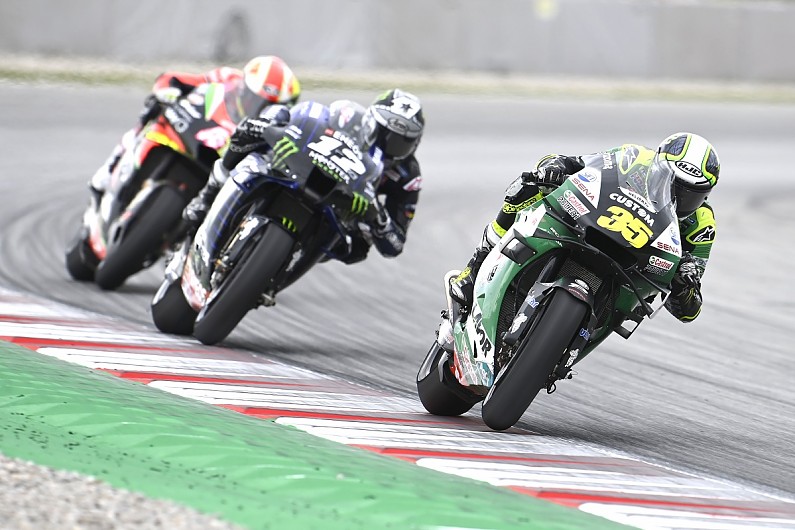 Crutchlow "pleased" with top 10 on return
LCR Honda's Cal Crutchlow ended his first race since August's Styrian Grand Prix inside the top 10 after a race-long battle with Yamaha's Maverick Vinales.
Crutchlow admitted after qualifying he was worried about how his still-recovering right arm would cope across the 24-lap race, and says it wasn't perfect on Sunday.
Though pleased with the result, he says he was unable to try the set-up he really wanted during practice and this meant the bike he had for the race quickly wore out the rear tyre.
"I wish I would have been able to be a bit faster," he said. "My arm in the race was not fantastic, but it's still recovering. But pleased to be back, pleased to finish.
"I didn't have a bad pace, but I didn't have a great pace. Seems that we went, with the bike setting we had, through the rear tyre a bit too much.
"But over the weekend we were dealing with other things, so I never got to try the setting that I really wanted to try.
"But I think we did a good job, and with this topsy turvy championship we have I was battling with last week's race winner. To come back from having some races off, to have a top 10 was not too bad. But I wish I was able to be a bit faster."