Mid-Ohio IndyCar winner Colton Herta says that hitting the right fuel number gave him an edge over his Andretti Autosport team-mates despite possibly making the wrong strategy call on tyres.
Herta led 57 of the 75 laps in Mid-Ohio's second race of the weekend, and the majority of laps in which he wasn't P1 were a result of running behind two off-strategy cars.
The 20-year-old, in his second year in the IndyCar Series, led home Alexander Rossi and Ryan Hunter-Reay in an Andretti Autosport 1-2-3 – the team's first podium sweep in 15 years – but he had to survive a restart on Firestone's harder compound tyres and also spend the final stint looking after the softer 'reds'.
The vast majority of the field had pitted under the first full-course caution, which came on lap 15 when Dalton Kellett spun his AJ Foyt Racing-Chevy into the Turn 1 gravel.
It meant drivers had to stretch their middle stint fuel-wise, and while Rossi and Hunter-Reay switched to a second set of reds, Herta went for the harder black compound making his life tougher on the restart that would follow.
"I think we probably made the wrong choice, but it really didn't make that big of a difference because I think the blacks and reds were closer today for some reason than yesterday," said Herta.
"We were actually in the Carousel [at the end of the track] when they called me to pit. They saw Dalton went off in Turn 1 so I had to shoot off really quickly, so we really had no chance to discuss what tyre was going to be better.
"I think if we look back at it, it probably would have been a lot less stress if we were on reds, but I think once we got the blacks up to temperature, it really didn't matter because I think we were fast enough to keep them behind.
"I was very happy that [Scott] Dixon [also on blacks] was actually behind me because I knew he was going to give [Rossi and Hunter-Reay] a really hard time, and I knew I had a little bit of an advantage on cold tyres compared to him, based on how it seemed at the start.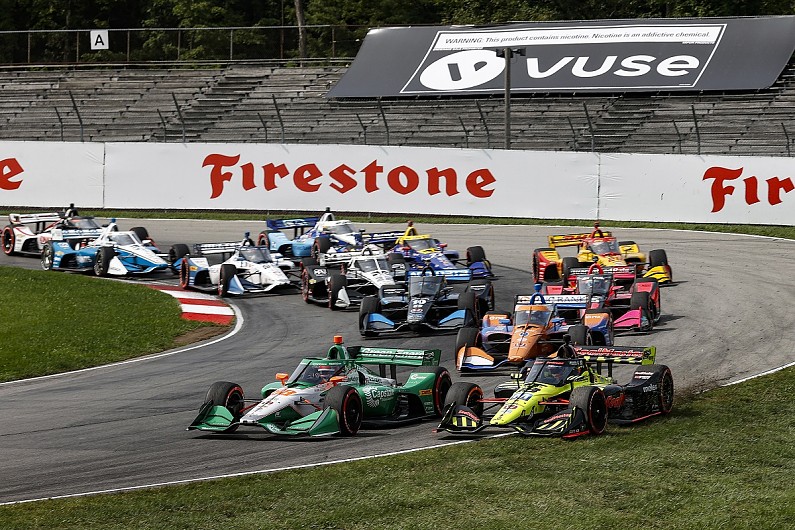 "I think that, and where the restarts take place, it's easy to kind of build up a little bit of a gap before you get into any of the passing zones. It gave me that little bit more confidence to push it in the corners and I could make a few mistakes on exit and still get away with it and not have the trouble of somebody breathing down my neck.
"I think if Rossi and Hunter-Reay [both on softs] were right behind me, they probably would have gotten me, but I think having that buffer in Scott really made the difference."
Herta was able to keep Rossi at arm's length through the second stint while also sticking rigidly to a fuel consumption number, pitting one lap later than his team-mate.
"Obviously we had stopped very early [first stop] so we were able to hit a bigger fuel number in the second stint," said Herta, who has moved up to fourth in the points standings.
"I think that really made the difference because we were able to hit that fuel number and not really worry about the cars behind. We could control the pace. Yeah, they couldn't really get close to us."