Jack Miller says severe tyre graining in the MotoGP San Marino Grand Prix made his race one of "survival" after being persuaded to use his less-preferred rear option.
The Pramac Ducati rider ran third for the first 13 tours of Sunday's 27-lap Misano race, but from early on knew he was in "difficulty" with his rear tyre.
Having preferred to run the hard or medium option, Miller was convinced by his team to go with the soft tyre as it was confident it would last the distance – even after suffering graining with the soft in the morning warm-up.
Miller's drop through the field from lap 14 onwards was swift, as he faded to ninth by the chequered flag although a track limits penalty for LCRs Takaaki Nakagami promoted him to eighth.
"I understood already from maybe lap five that I was going to be in some difficulty later on in the race with the tyre, so by lap seven I already switched the [engine] map to try to conserve the tyre," Miller explained.
"Still, I suffered a lot, not only with the rear tyre but also with the front on the left side.
"At the end of the race I couldn't really use any [lean] angle on the left side, I had to really control the speed with the bike when I change directions.
"I had to go slowly down because if I did this too aggressive I would have lost the front.
"We need to understand why the left-hand side of the tyre was destroyed like it was, and all this weekend the soft had this graining problem.
"That's why I didn't feel convinced with it. Today was a survival one."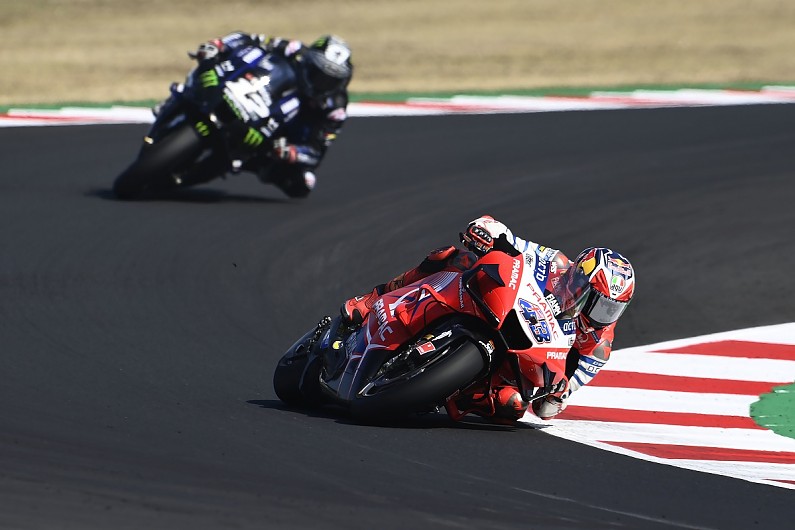 Miller said he now has to "trust a little bit more my instincts" on race tyre choice going forward as he "suffered" for going against them.
"To be honest, my heart was really set on using a hard or a medium," he added.
"But the guys around me were quite convinced that the soft would make the difference, and I used another soft in the morning and got 20 laps at the end of it, and I had big graining with it on the left side.
"But I was convinced that this won't happen in the hotter temperatures, that the tyre would behave better in the hotter temperature.
"And it wasn't the case. So, I think going on into the future I need to trust a little bit more my instincts, what I've done over the weekend, what tyres are working.
"Let's say, I was looking for an answer and the answer I got I didn't like, but I went with it.
"In the end I suffered for this."