KTM's Brad Binder accepts that he is going to make "a hell of a lot more mistakes" in his rookie MotoGP campaign, after two promising but difficult Jerez races.
The South African showed impressive pace across the Spanish and Andalusian Grand Prix weekends, lapping quicker than most of the podium contenders during both races.
However, he was forced into a recovery ride after an off early in the Spanish GP, and had to do the same in the second Jerez race following a collision with Tech3 KTM counterpart Miguel Oliveira – before crashing out heavily at Turn 13 on lap 13.
Binder admits mistakes in both races were "not great on my part", but accepts that they are likely to happen more as his debut MotoGP campaign wears on.
When asked by Autosport if in a way getting big mistakes out of the way early was a weight off his shoulders, Binder said: "I suppose that'd be great if this is the end of it, because it's not like me to mess up in races.
"And I've done it twice in a row. So, not great on my behalf, but it is what it is.
"Life goes on, and at the end of the day, I've got to keep in mind I am a rookie.
"I'm going to make a hell of a lot more mistakes this year still, and I can just be really happy that I'm okay because I had a big one [on Sunday]."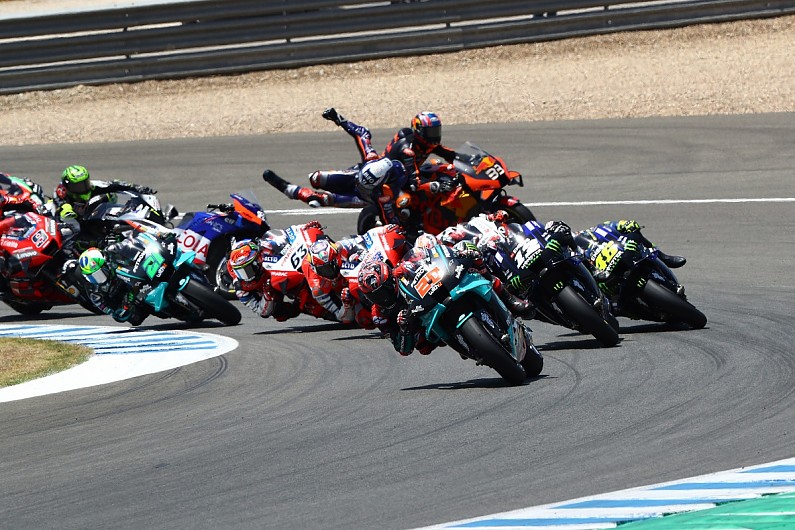 Binder has proven to be a consistent campaigner, with his Andalusia DNF just the seventh time since his title winning Moto3 season in 2016 that he hasn't seen a chequered flag.
PLUS: The rookie who promises a golden future for KTM
Though frustrated that his mistakes haven't allowed him to reap the rewards of his strong pace, Binder concedes that he would never "expect" the form he has shown in his opening MotoGP races.
"I suppose it's the only positive we can take out of it [that my pace was so strong]," he added.
"So I've got to try and enjoy that part of it. But I mean I must say, I just was having a look at the sheets earlier and I had the third quickest laptime [in the Andalusian GP], which is really good.
"I would never expect that coming into my first two GPs. Of course, the rhythm was a little bit up and down.
"But anyway, when I did clean laps, they were super-fast, so not too far from maybe your top five guys.
"But at the end of the day, I ended up throwing it away with what maybe 13 laps into the race or something.
"So, I just had another 11 laps ago. But if we look at what we learned last week [in the Spanish GP], I could manage to keep the pace going.
"So, I need to just keep working on that. Keep my strategy the same throughout the weekends and just make sure that I have this ability to feel comfortable and hold a good race pace.
"And I think that will carry us through in the next races."