Aleix Espargaro admits he is "not really enjoying" riding his Aprilia MotoGP bike at the moment as he is "fighting for very bad positions".
Espargaro has only cracked the top 10 once this season, when he was 10th at the Czech Grand Prix, and currently sits 17th in the standings on 22 points after finishing a distant 12th in last weekend's Catalunya race.
Aprilia's all-new RS-GP made a promising start to life in the winter tests in Malaysia and Qatar at the start of the year, but engine problems have meant the marque is having to run on reduced power.
Matters haven't been helped by crashing out of both Jerez races and falling on the opening lap of the second Misano race, the Emilia Romagna GP.
"The situation now is not easy, I'm really not enjoying [it] so much because I'm fighting for very bad positions," Espargaro said.
"But, [I'm] excited to gain some tenths circuit by circuit and try to finish the season in the best way possible.
"Especially after the crash I had last week, it was very important to finish the race [at Catalunya] because for the engineers, for the experience, where you gain more data is in the race.
"When you have more tyre consumption, where the engine suffers more is after 40 minutes full gas and this just happens in the race. So, I'm satisfied we could finish.
"But, again, for me I know we have to finish, but to finish in these positions this far from the podium doesn't make me very satisfied.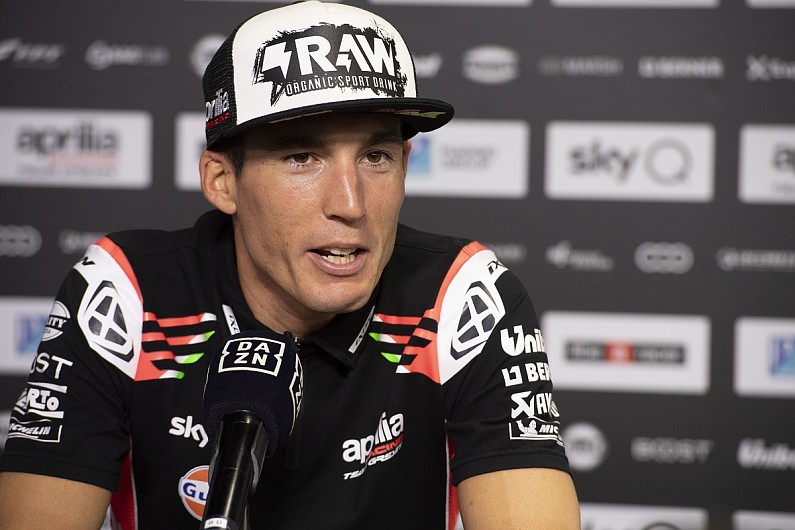 "I have to finish races because it's my job, but I want to finish closer."
Espargaro said Aprilia had "suffered" in the Catalan GP's abnormally cool conditions, and conceded it is likely to face similar struggles at next weekend's French GP .
"I expect to use the jacket, that's for sure," he replied when asked what he expects from the upcoming Le Mans race.
"Normally our bike is not working very good in the cold conditions.
"I suffered this weekend, and we see normally in the winter tests in Malaysia and Qatar where it's very hot, we were very competitive, in Thailand, Argentina.
"And when we go to very cold tracks like Assen, sometimes in Germany, Le Mans we suffer a bit more.
"So, we have to think a little bit about the balance and the setting of the bike to put the temperature in the tyres.
"Le Mans is a circuit that I like, then we go to Aragon."